About Our University
Lumbini Buddhist University (LBU), from the birth place of Gautam Buddha, Lumbini, is an autonomous and public institution of higher learning committed with the mission to educate the people of Nepal and enrich the global learning community through the application of core Buddhist values and to promote the World Peace.
Established by the Government of Nepal with a Parliament Act on June 17,2004 under the concept presented by the First World Buddhist Summit held in Lumbini. The constituent campuses of the University and the Central Administration Offices are located in Lumbini, in the district of Rupandehi, Nepal.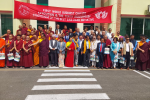 10/06/2023
On February 11, 2019, a significant phase of the agreement signed with China's…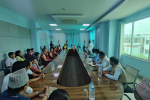 10/05/2023
During a recent event held today to welcome Dr. Lyharkyal Lama, Vice President…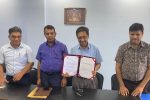 10/02/2023
Lumbini, 2023/10/2 – A significant Memorandum of Understanding (MOU) was signed between Lumbini…
Latest Buddhist Publications:
Lumbini Buddhist University's  Faculty of Buddhist Studies Publications
Boudha Haiku
Buddhist Haiku is a collection of haiku written in Newari and Nepali language. The faculty of Buddhist studies organized a haiku competition. The competitors were given four pictures as a theme of Haiku competition, as a result seventy excellent haiku were collected in the book.
Boudha Katha
This is the collection of twentyfive Buddhist stories that were selected in the Buddhist Short Story Literature competition organized by Faculty of Buddhist Studies, Lumbini Buddhist University. It also contains the pre-prologues written by Prof. Dr. Abhi Subedi and Prof. Dr. Kapil Dev Lamichane.
Bauddha Bankha Muna
Lumbini Buddhist University's  Faculty of Buddhist Studies organized a competition on Buddhist themes, reflecting Buddhist teachings, Buddhist Jataka Stories, and the overall Buddhist Dhamma as a result twenty selected stories are presented in this book.
Nepali Bauddha Katha
With the aim of promoting and developing Nepali Buddhist literature, Lumbini Buddhist University's, Faculty of Buddhist Studies organized a program of writing Buddhist stories by renowned literary figures, resulting in a compilation of seventeen collected stories.
Notice Board
Find Your Preferred Course
OUR TESTIMONIALS

Practical Based Learning
"I would like to thank the LBU team for providing the friendly and disciplined environment to study and doing practical. Behind my success and position each and every LBU team played a great role. I am proud to be the part of LBU family."

Many opportunities and best experiences
"LBU BBTM is a course which include many opportunities and best experiences. To study this course is very fruitful and interesting. As tourism industry is income generating industry all over the world. There are several opportunities in this course as well as sharing of culture, happiness ,knowledge among the people."

Supportive Environment
"I am feeling like I have achieved a mammoth success, I can ever achieve in my life. The credit to my achievement all goes to our respected teachers and the management of the college, who believed in me more than I believe myself. And co-operated me throughout the semester whenever I encountered any difficulties."

Excellent environment
I feel humbled to be a part of LBU "It is amazing to witness endeavors of an institution that has worked undeterred, in high spirit and selflessly towards changing the face of college education in Nepal. LBU is one of those rare institutions. I feel humbled to be a part of it."With great friends by my side, amazing seniors to look up to and wonderful teachers,LBU has created an excellent environment for me.
Our Global Partners